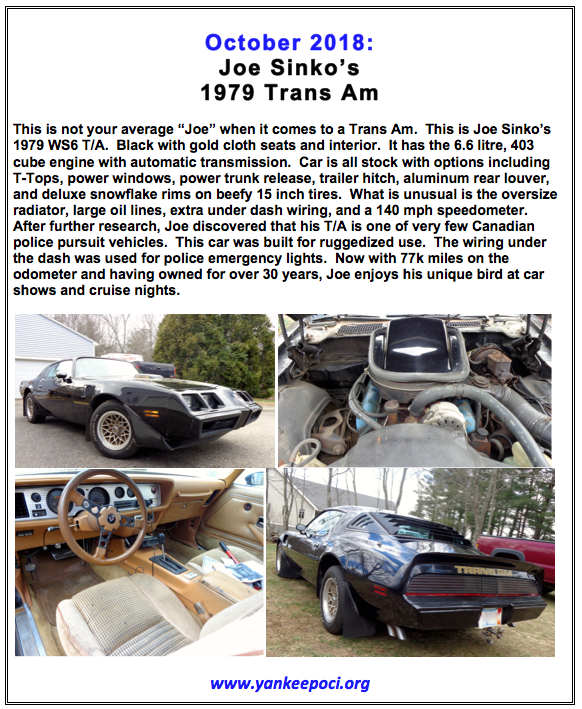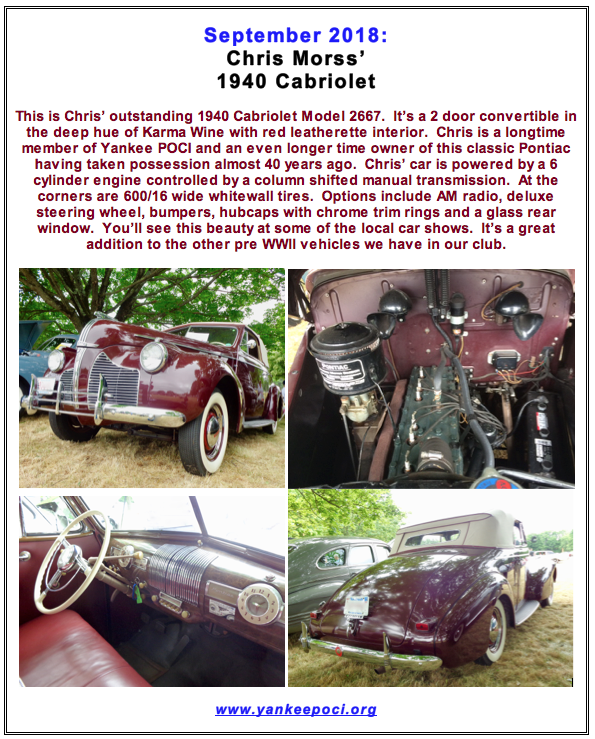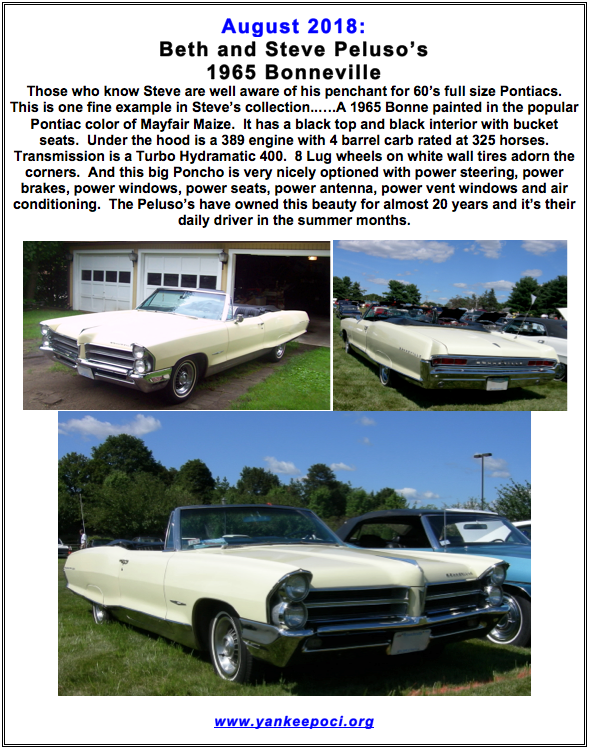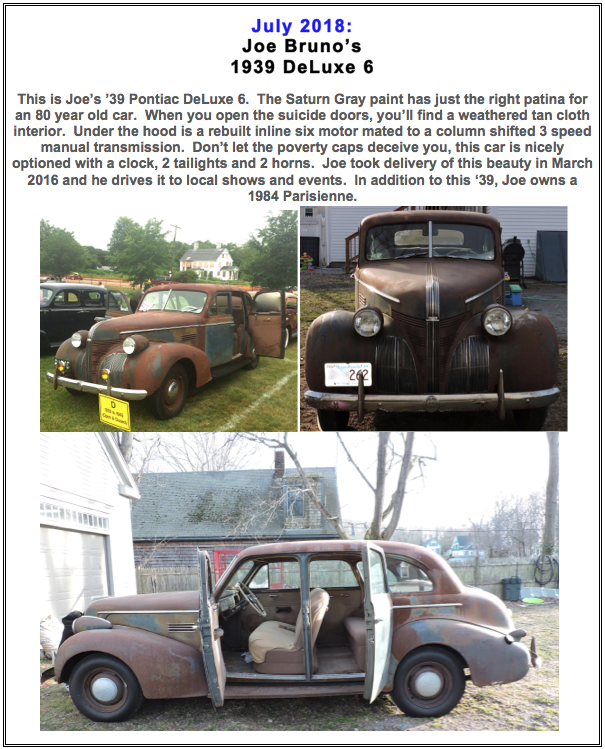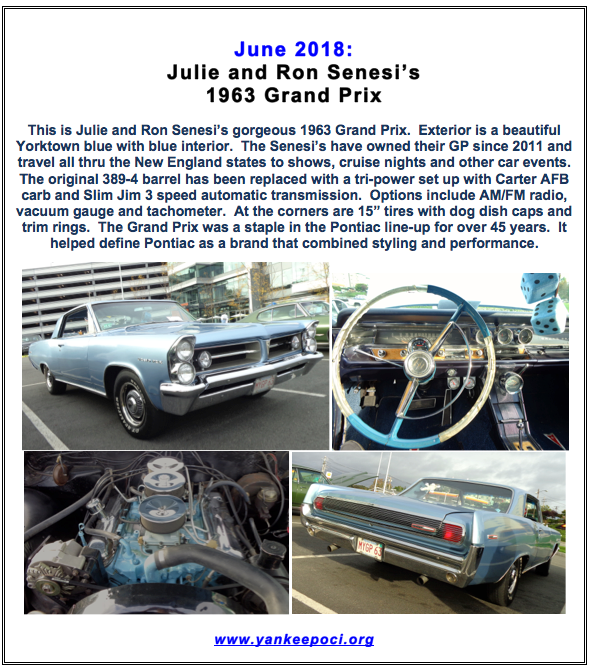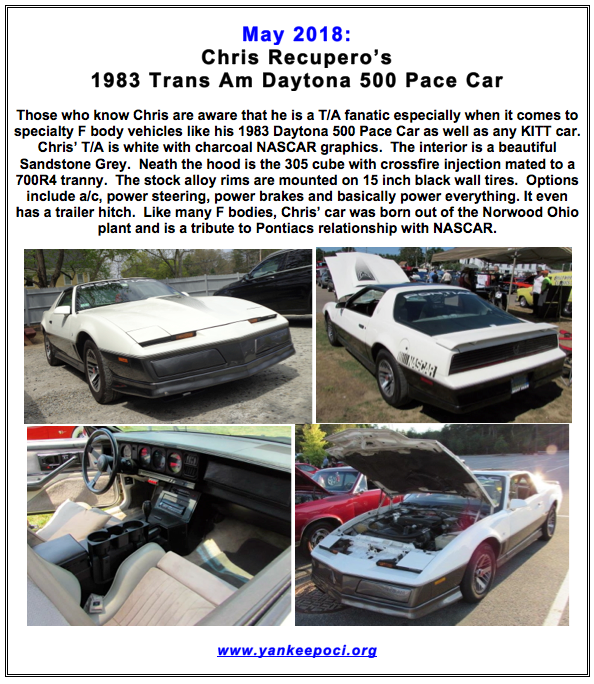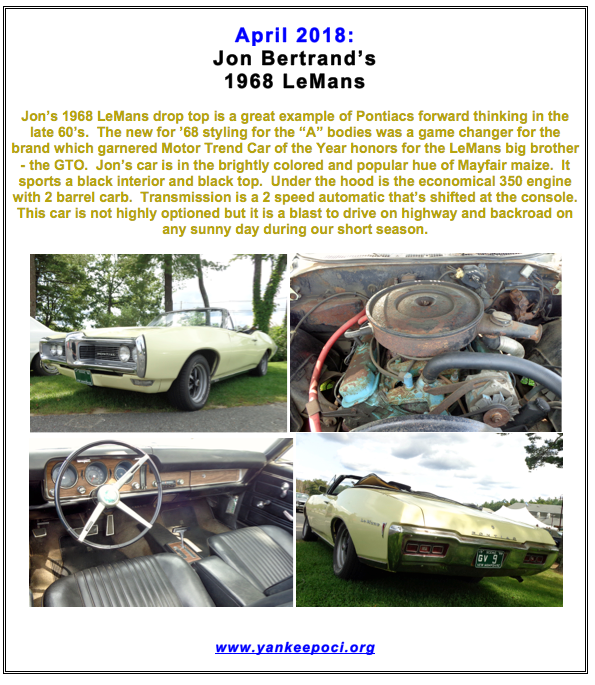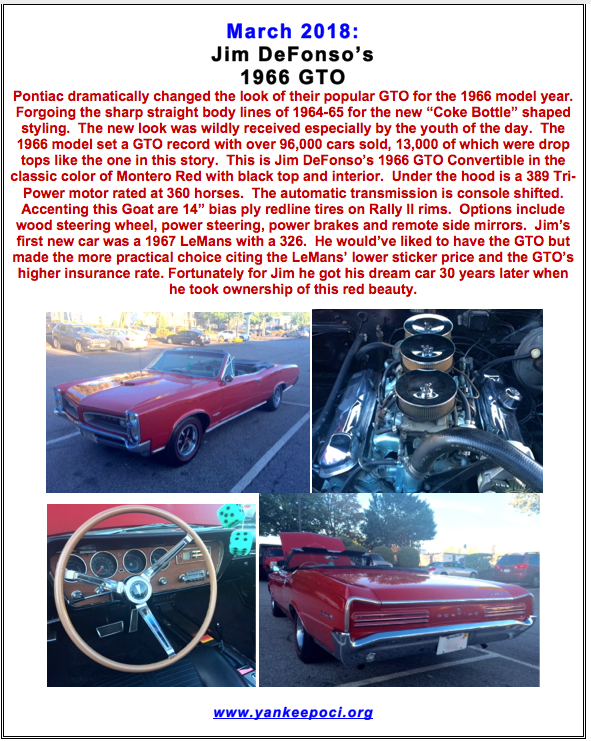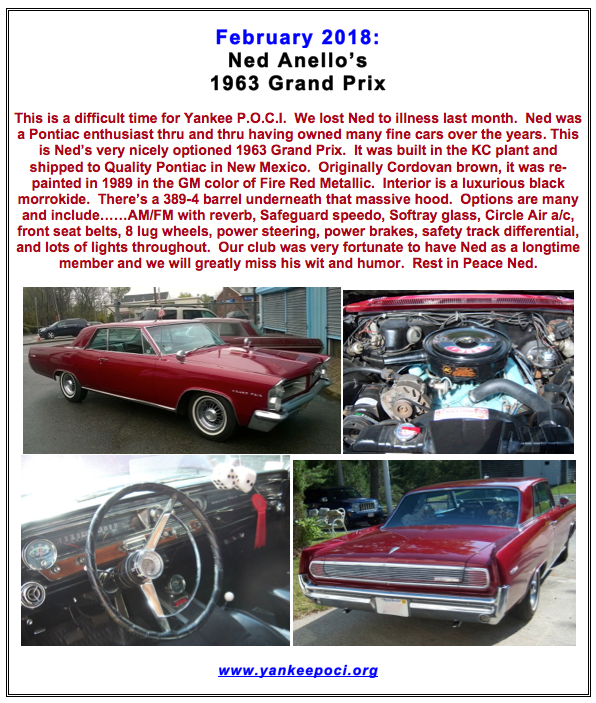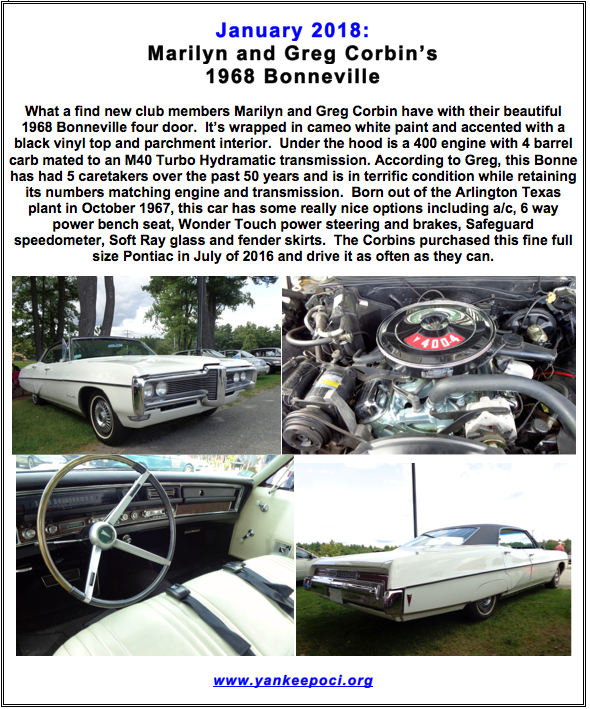 December 2017:  Holly and Tim Cipriani's 1955 Star Chief Custom Catalina
November 2017:  Jenn and Bruce MacDonald's 1988 Firebird Formula
October 2017:  Mary and Donny Oleski's 1937 Five Window Coupe
September 2017:  Sharon and Todd Goldman's 1968 GTO
August 2017:  Wayne Henry's 1966 Bonneville
July 2017:  Joe and Ann Marie Mandarano's 1960 Catalina Safari Wagon
June 2017:  Bob Lassman's 1963 Grand Prix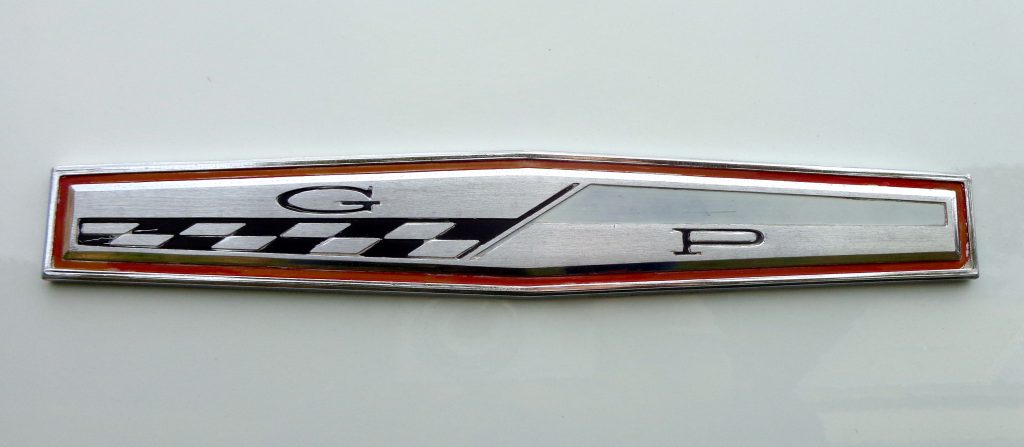 May 2017:  Linda and Bill Kelley's 1970 GTO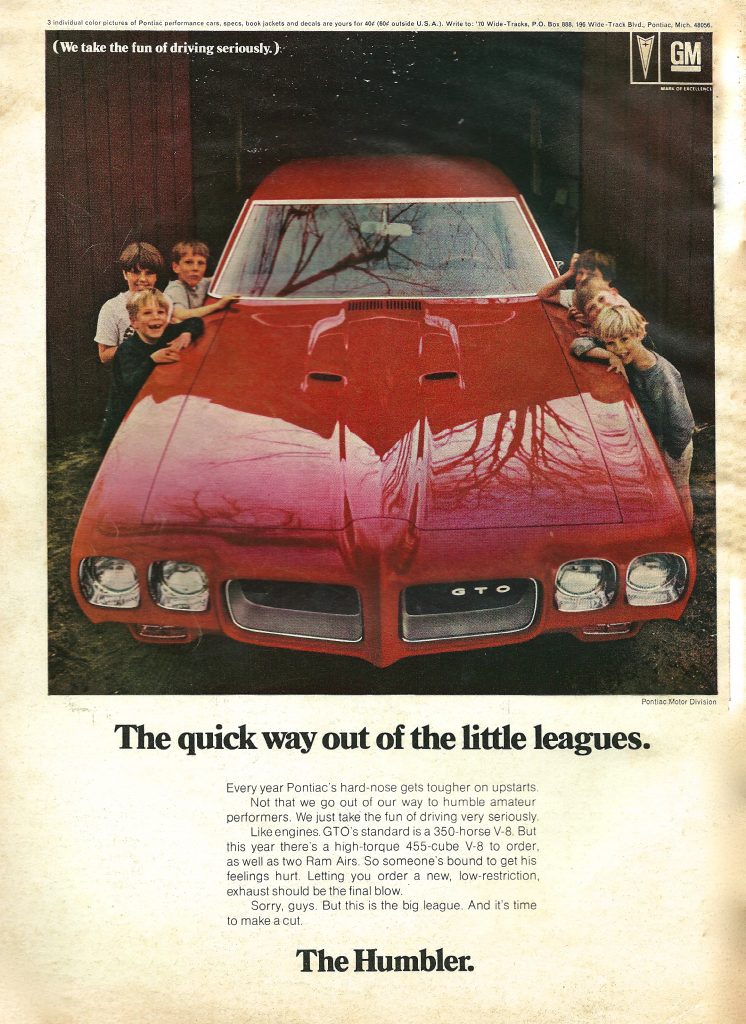 April 2017:  Ned Anello's 1966 Grand Prix
March 2017:  Steve Colacchio's 1981 Trans Am
February 2017:  Diane and Dick Krafton's 1969 GTO
January 2017:  Cathy and Tom DuBois' 1985 Parisienne Brougham
December 2016:  Roger DeSaulniers 1955 Star Chief Catalina 
November 2016:  Lou Maffei's 1977 Grand Prix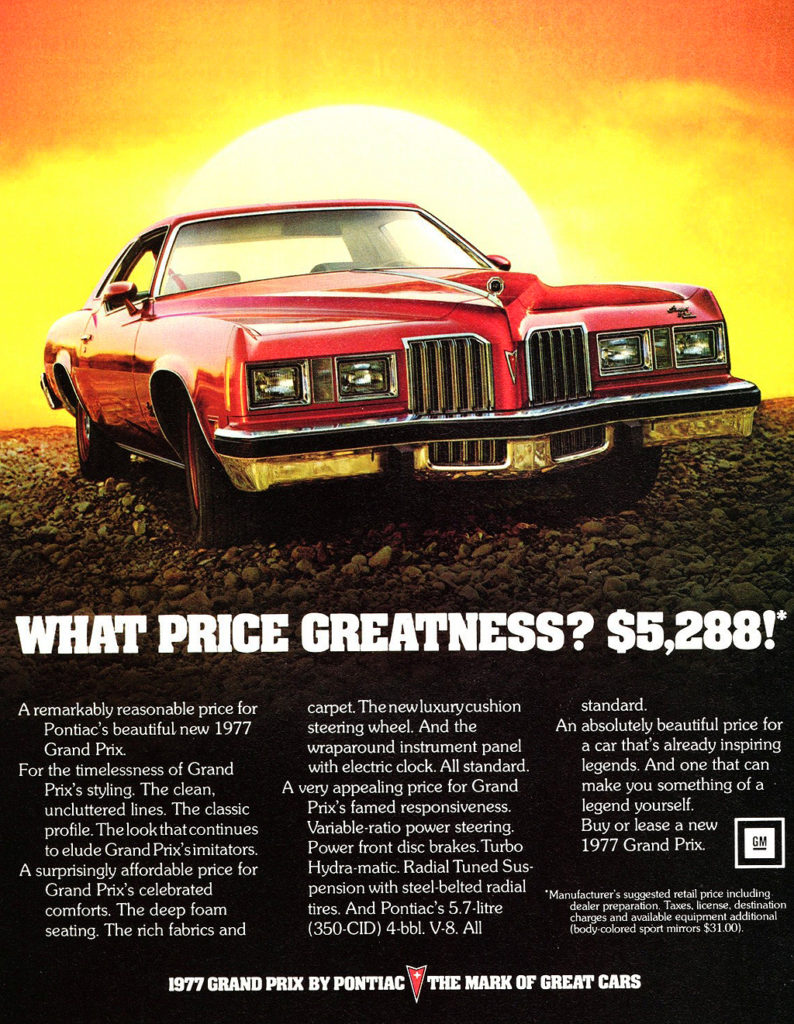 October 2016:  Joan and John Bace's 1941 Super Streamliner Torpedo DeLuxe
September 2016:  Paul O'Toole's 1968 Bonneville
August 2016:  Eddy Echevarria's 1957 Super Chief
July 2016:  Phil Guerra's and Jack Day's 1962 Tempest LeMans

Pontiac's entry into the burgeoning compact car market occurred in the 1961 model year with the introduction of the Tempest.  
The Tempest offered a unique rear drive train, four wheel independent suspension, roomy interior, and economical gas mileage (20 mpg.) The removal of the "center hump" enabled 6 passenger comfort with more leg room.  Just some of the many reasons that the Tempest was named Motor Trends Car of the Year in 1961.
For 1962, Pontiac offered the upgraded LeMans trim package which included a convertible.  
Our Co-Cars of the Month for July are 2 fine examples of Pontiac's pioneers of compact.  Phil Guerra and Jack Day's cars are identical in year, make, model, body style and engine.  
They are two great stories about this distinctive and not often seen Pontiac.  
The Yankee Chapter is very fortunate to have these "Lil Indians"  as a part of our club  
June 2016:  
Jim May's 1964 GTO
May 2016  Steve Bresciani's 1966 2+2
April 2016:  John Howard's 1967 GTO
March 2016:  Charlie Barron's 1978 Trans Am
February 2016:  Les Ward's 1957 Chieftain Catalina Hardtop
January 2016:  Charlie Egirous' 1969 GTO
December 2015:  Dave Cataloni's  1968 Grand Prix
November 2015:  Paul Melanson's 1958 Star Chief   
October 2015:  Derek and Curtis William's 1971 LeMans Sport Convertible
September 2015:  Ben Bennett's 1961 Bonneville Bubbletop